Notes From the Farm
We have gotten several frosts, the winter squash vines are crunchy underfoot, and the basil plants have turned brown. Frost cover has saved the tomatoes several times over. But really this is the most abundant time of the year! So many wonderful fall crops that are filling and nourishing. Some of the vegetables in your share can be put aside for a time if you are catching up from last week. The sprouts, winter squashes and carrots all have a longer shelf life.
Below are a few recipes to inspire you. I have made the glowing carrot turmeric soup many times (with ground turmeric instead of fresh). It is one of my favorites and has even gotten two thumbs up from my non-soup-loving household members. We also tested out the balsamic/honey roasted Brussels sprouts; easy and yummy.
This Week's Veggie Feast
Brussels Sprouts, Sunshine Squash, Carnival Squash, Cayenne Pepper, Anaheim Chile Peppers, Tomatoes, Cucumber, Salad mix, Radishes, Carrots, Leeks
New This Week
Those of you who have been our CSA members for years may know how I go on and on about Sunshine winter squash. It is my favorite, not only for it's cheery bright color on the outside, but also for it's rich flavor. The inside of this winter squash is also a deep orange. Unfortunately, the mice know a good thing when they see (or smell?) it. Sunshines get chewed on more than the other varieties of winter squash in our field, so I am guessing it is a favorite of theirs. The squash is remarkably resistant, the skin forms a scab over the chew marks if they are not too deep. This squash has been harvested and cured for 3 weeks now, so it is ready to eat. It can also store in a dry, cool spot. Dry is more important than cool. Just be sure to check it every week to make sure that it is not getting soft spots. If it is you can still bake it and cut around the icky parts.
The flesh of sunshine is typically drier than an acorn or delicata. Due to the thicker skin most people do not try to peel this squash before cooking it. It makes for a great addition to soups and casseroles and also makes a fine substitute for pumpkin in a pumpkin pie.
Brussels sprouts on the stalk are fun for seeing how this mini cabbage look-a-like grows.  If you don't have room in the fridge for the whole stalk, the sprouts can be easily popped off the stalk and stored in a plastic bag.
Brussels sprouts can last a long time but they are best when eaten sooner than later, as their flavor becomes more assertive over time.  Any food item that goes well with cabbage or cauliflower also makes a great pairing with Brussels sprouts, including butter, cream, blue cheese, mustard, capers, garlic, bacon, and vinegar.  Brussels take well to steaming, roasting, or braising.  If cooking whole, cutting an X in the bottom brings heat to their centers more quickly.  Generally the small round heads are cut in half or thinly sliced, allowing them to cook faster and better absorb more sauce or seasoning.
This week you will get a bag of mixed Anaheim and Cayenne peppers. Cayennes are long, skinny and usually much hotter than Anaheims. In the photo the Anaheim is on the left, the cayenne on the right. Anaheims can be roasted, made into chile rellenos, added to an egg dish or salsa, a versatile pepper. Cayennes are on the spicy side and can also be added to a variety of dishes if you like heat. They also dry really nicely, so you could make your own cayenne powder by grinding up dried cayennes. There are several ways to go about this. If you are patient you can string them up using a needle and thread. I usually thread through the bottom of the stem and they dry just fine but there is the possibility of mold forming on the inside of the pepper using this method. We also have dried them whole on screens. This method requires the least amount of effort after you find a screen and appropriate location, but does take up more space. the last method is using a dehydrator or an oven to dry them. This takes more energy but gets the job done more quickly and eliminates the potential mold issue. Here is one website I found explaining all of these techniques more fully.
Not new this week, but new last week when I was unable to write the newsletter is Carnival squash. This little beauty is not only fun to look at but has a mild taste and smooth texture. These squashes can be peeled before being cooked, or baked whole in the oven.
Carnivals can store a long, long time. We stored 15 of them on the uppermost reaches of our kitchen shelf last winter, because we didn't have anywhere else to put them. Even though our kitchen stays pretty warm Carnival lasted into April!
Recipes
Roasted Brussels Sprouts With Balsamic Vinegar and Honey
Ingredients
1-1/2 pounds Brussels sprouts, halved, stems and ragged outer leaves removed*
3 tablespoons extra virgin olive oil
3/4 teaspoon kosher salt
1/2 teaspoon freshly ground black pepper
1 tablespoon balsamic vinegar
1 teaspoon honey
Instructions
Preheat oven to 425°F and set an oven rack in the middle position. Line a baking sheet with heavy-duty aluminum foil.
Directly on the prepared baking sheet, toss the Brussels sprouts with 2 tablespoons of the oil, the salt, and the pepper. Roast, stirring once halfway through, until tender and golden brown, about 20 minutes.
Drizzle the remaining tablespoon of oil, the balsamic vinegar and the honey over the roasted Brussels sprouts. Toss to coat evenly. Taste and adjust seasoning, if necessary, then serve.
*If you have some brussels sprouts that are very large, cut them into quarters. They should all be cut about the same size to ensure even cooking.
Source: Once Upon a Chef
Glowing Carrot Turmeric Soup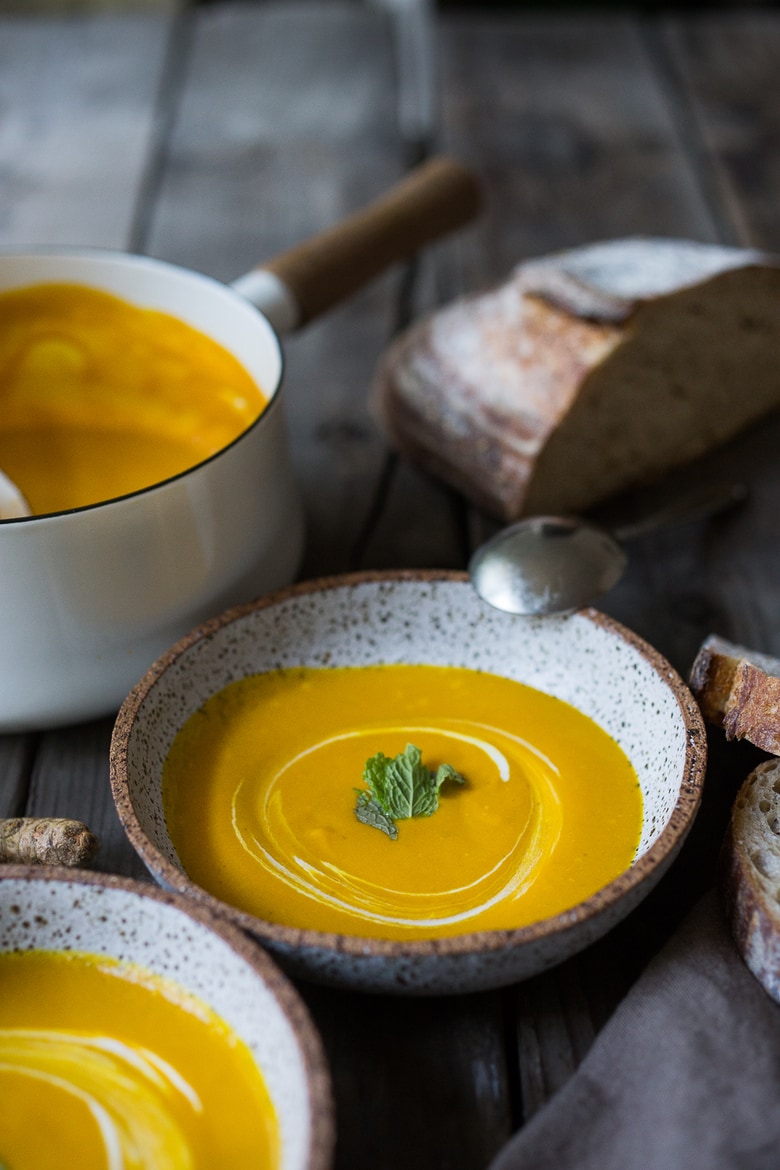 Ingredients
1 tablespoon coconut oil ( or vegetable oil, olive oil)
½ cup chopped shallot ( 2 shallots, or ½ an onion)
2 tablespoons chopped, peeled turmeric ( see notes)
2 tablespoon chopped, peeled ginger root
4 garlic cloves, rough chopped
1 pint fresh carrot juice ( 2 cups– ok to use store bought) or use 2 cups veggie or chicken stock.
2 cups water
1 lb chopped carrots
½ teaspoon salt, then more to taste
¾ – 1 can of coconut milk, saving some for swirling if you want.
1 teaspoon curry powder
½ teaspoon apple cider vinegar, or lime juice
½ teaspoon soy sauce ( or Braggs liquid amino ) – this is optional,  added for depth.
1 teaspoon maple syrup
Pinch or two cayenne, to taste
garnish with mint, cilantro or edible flowers
---
Instructions
Peel and chop shallots, turmeric, ginger and garlic.
Chop the carrots into ½ inch rings, no need to peel if scrubbed.
Heat oil in a large pot, over medium heat.
Add shallots, turmeric root and ginger and sauté until golden, about 3-4 minutes. (see notes if using ground turmeric)
Add garlic and continue cooking, stirring about 2 minutes.
Add carrot juice, water and carrots and salt.
Bring to a boil, cover, turn heat down and simmer until carrots are tender, 15-20 minutes.
Let it cool a bit, then blend in batches until very smooth and velvety.
Place the soup back in a pot, over low heat and add coconut milk and curry, vinegar, soy, and maple. Simmer and stir until coconut milk is combined. Taste, adjust salt.
Add cayenne for a little heat.
Serve with fresh herbs and coconut milk swirls.
---
Notes
If subbing ground turmeric add it when you add the curry powder. It is much more intense in flavor than the fresh root, so start with one teaspoon, adding more to taste.
Source: Feasting at Home
Vegetarian Stuffed Acorn Squash
Vegetarian Stuffed Winter Squash
Ingredients
2 medium winter squash
2 tablespoons extra-virgin olive oil, divided
½ teaspoon fine sea salt, divided
½ cup quinoa, rinsed
1 cup water
¼ cup dried cranberries
¼ cup raw pepitas (hulled pumpkin seeds)
¼ cup chopped green onion
¼ cup chopped fresh flat-leaf parsley, plus 1 tablespoon for garnish
1 clove garlic, pressed or minced
1 tablespoon lemon juice
¾ cup grated Parmesan cheese
½ cup crumbled goat cheese or feta
Instructions
Preheat the oven to 400 degrees Fahrenheit and line a large, rimmed baking sheet with parchment paper for easy clean-up.
To prepare the squash, use a sharp chef's knife to slice through it from the tip to the stem. I find it easiest to pierce the squash in the center along a depression line, then cut through the tip, and finish by slicing through the top portion just next to the stem. Use a large spoon to scoop out the seeds and stringy bits inside, and discard those pieces.
Place the squash halves cut side up on the parchment-lined pan. Drizzle 1 tablespoon of the olive oil over the squash, and sprinkle with ¼ teaspoon of the salt. Rub the oil into the cut sides of the squash, then turn them over so the cut sides are against the pan. Bake until the squash flesh is easily pierced through by a fork, about 30 to 45 minutes. Leave the oven on.
Meanwhile, cook the quinoa: In a medium saucepan, combine the rinsed quinoa and water. Bring the mixture to a boil over medium-high heat, then reduce the heat as necessary to maintain a gentle simmer. Simmer, uncovered, until all of the water is absorbed, 12 to 18 minutes. Remove the pot from the heat and stir in the cranberries. Cover, and let the mixture steam for 5 minutes. Uncover and fluff the quinoa with a fork.
In a medium skillet, toast the pepitas over medium heat, stirring frequently, until the pepitas are turning golden on the edges and making little popping noises, about 4 to 5 minutes. Set aside.
Pour the fluffed quinoa mixture into a medium mixing bowl. Add the toasted pepitas, chopped green onion, parsley, garlic, lemon juice, the remaining ¼ teaspoon salt, and the remaining 1 tablespoon olive oil. Stir until the ingredients are evenly distributed. Taste and add additional salt, if necessary.
If the mixture is very hot, let it cool for a few minutes before adding the Parmesan cheese and goat cheese. Gently stir the mixture to combine.
Turn the cooked squash halves over so the cut sides are facing up. Divide the mixture evenly between the squash halves with a large spoon. Return the squash to the oven and bake for 15 to 18 minutes, until the cheesy quinoa is turning golden on top.
Sprinkle the stuffed squash with the remaining 1 tablespoon chopped parsley, and serve warm.
Source: Adapted from Cookie + Kate