Notes From the Farm
One thing I have noticed over the 20 years that I have been working in agriculture is non-farm people really like talking about farming, at least in Montana. I find that when I am in a social situation with acquaintances people always inquire about the farm. If I am in a group of strangers I pray that no one asks me what I do for a living because once the farm thing leaks out it becomes more like an interrogation. At first I thought, well, they are just making conversation. But I started paying attention; the counselors, real estate agents, receptionists, computer programmers, nurses aides, etc. were not getting the rapid-fire questions and the intense eye contact. I don't know what images or ideas a small farm carries for people…wholesomeness, freedom, independence….not having to sit at a desk all day?
The problem I have with the farm  interrogation  , ahem, conversation is that (unlike Leon) I just don't have a lot to say on the subject.  Prepare the soil, plant the seeds, water the seeds, weed the crops, harvest, ka-bam you're done.  Or as one of our fellow local farm friends said to me one day when I asked about his life "I walk through the gate in the morning and 8 to 12 hours later I walk out of the gate."
One thing I do want to talk about though is cilantro.  I am sorry to those whose genetic makeup reduces the lovely, vibrant, green flavor of cilantro to soap.  I know what soap tastes like (thanks Mom) and it's a cruel, cruel world that some peoples tastebuds perceive the flavor of Dawn rather than fresh tanginess.  Every growing season I become infatuated with a different crop.  Last year it was red cabbage, the year before that Baby Pam pumpkins.  This year cilantro may be the one.  The recipes I give below all highlight cilantro.  We haven't made the Cilantro Lime Rice, but the Peruvian Green Sauce is amazing (I made the vegan version and used sunflower seeds in place of cashews 'cause that's what we had).  My family caught me eating it by the spoonful.  The Cabbage Slaw is pretty darn good too, and part of a fish taco recipe which was one of the BEST meals of the year for me. 
This Week's Veggies
Cilantro, Garlic Scapes, Swiss Chard, Spicy Greens, Oregano, Romaine Lettuce, Asparagus
New This Week
Cilantro pairs well with Thai, East Indian, Chinese, and Mexican cuisines. Cut the ends off the bunch of cilantro and store upright in a glass with a small amount of water. Covered loosely with a plastic bag and stored in the refrigerator, cilantro will last for several days.
Garlic scapes are the flower top off hardneck garlic. They look like a long green, curly pencil. The entire scape is edible, but there can be a tough section at the base of the yellowish-white blossom that could use more cooking time.  The green stems are most commonly cut into small pieces and cooked. Scapes are cut before the plant starts to fully flower, and provide a mild fresh garlic flavor that is great added to any dish where you would use a garlic clove. The sugar content is a bit higher so fresh scapes are best added towards the end of cooking to avoid any burning or bitter flavor. The scapes need to be stored in a plastic bag in the refrigerator and are best used fresh since they do not store like whole garlic bulbs.   Garlic scapes are mild in flavor so you can add extra when substituting for garlic cloves.  They are a great addition to breakfast scrambles and stir fries.
Most greens need to be stemmed before cooking, as the stems are too tough to eat. Swiss chard is the exception. These rainbow-colored stems have a similar texture to celery and can be used as such. The light green, gently-lobed rutabaga greens can be treated like a mild mustard green. Added to a stir fry, cooked greens, or cooked with bacon, these greens will bring a nice mild bite to the dish.
Chard stems and leaves can be treated as two separate vegetables. The stems can be treated like celery and generally need to be cooked longer. Leaves can be versatile; doing well as a quick sauté, added to soups, savory tarts or braised. Using a knife or your hands, remove the leaf from the stem and cut separately.
If you or your family likes to make pizza, try putting the Swiss chard on pizza in place of spinach. If the leaves are tough, blanch them first. Otherwise cut leaves into bite size pieces.
Recipes
Cilantro Lime Rice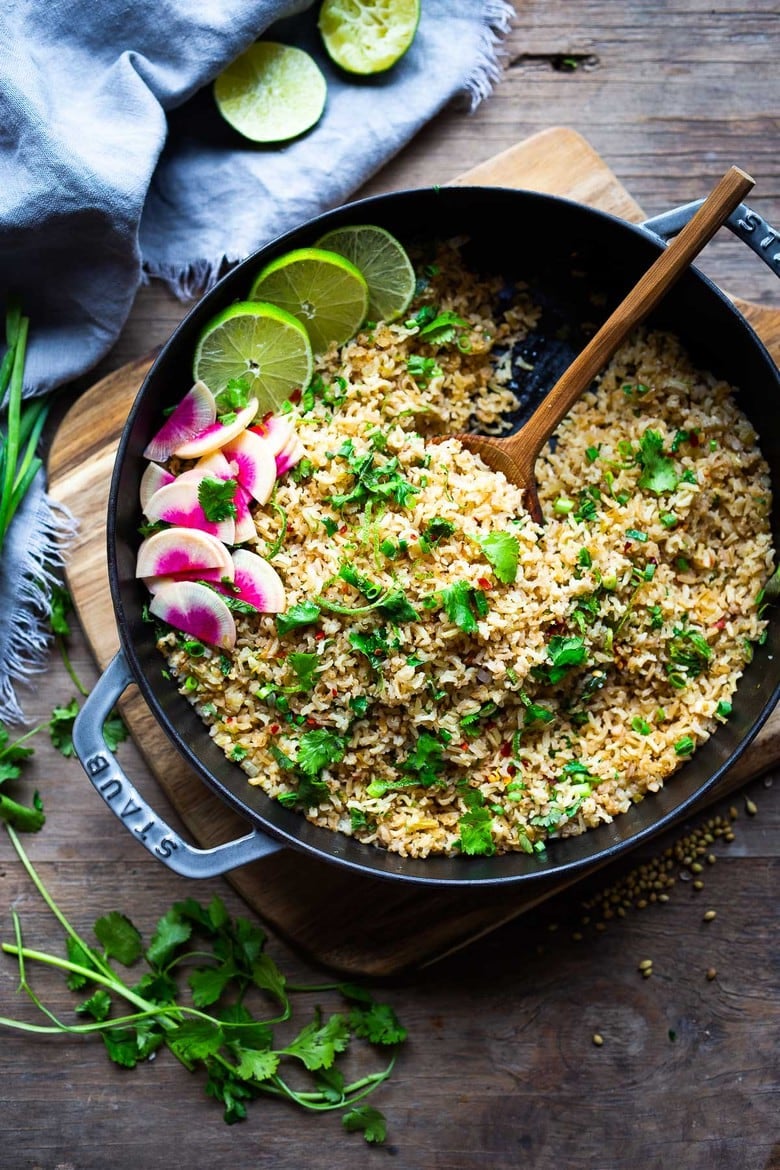 Ingredients
3 tablespoons olive oil
one small white onion, diced (1 1/2 cups)
4 garlic cloves, rough chopped
2 cups white basmati rice (see notes for brown basmati rice)
4 cups water
1 1/2 teaspoons salt
1 tablespoon ground coriander
1–2 limes- zest and juice
1/2 cup cilantro, chopped, leaves and tender stems
3 scallions, sliced
Instructions
Over medium heat, using a lidded saute pan or wide pot, saute onion and garlic in oil until fragrant and tender, 4-5 minutes. Add rice, saute 1-2 more minute, coating each grain, then add coriander, 1 tablespoon of the lime zest (save rest for garnish)  and 1 1/2 teaspoons salt.
Give a stir and add the water. Bring to a rapid boil. Cover, lower heat to low (gently simmering).
Cook 20-22 minutes or until all the water evaporates.
Fluff with fork, squeeze with lime juice (3-5 tablespoons) and right before serving, toss in the chopped cilantro and scallions.
Fluff again, taste and adjust salt and lime to taste.
Enjoy!
---
Notes
If making ahead, add cilantro and scallions right before serving!
If using Brown Basmati Rice plan on almost double the cooking time… 35-40 minutes (unless you soak the rice beforehand). Make sure to read package directions adjusting the liquid if need be.
Source:  Feasting at Home
Peruvian Green Sauce (Aji Verde)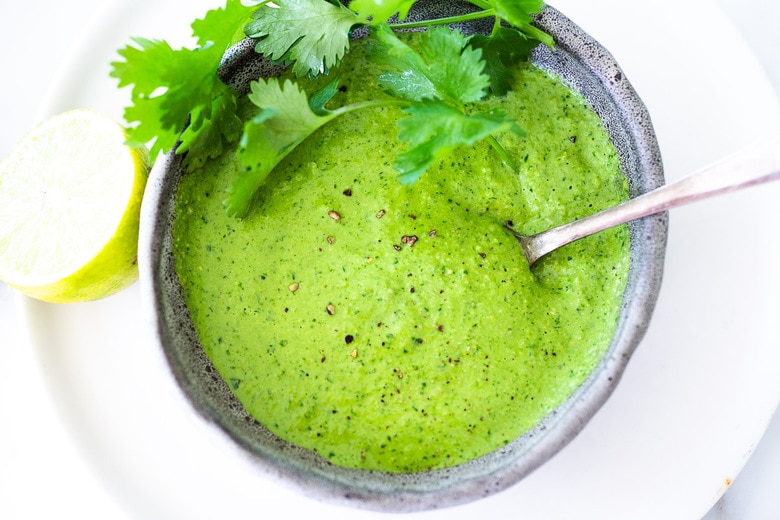 Ingredients
½ mayo or sour cream (or 1/3 cup cashews and 1/3 cup water -vegan option, see notes)
½–1 jalapeño or 1/2 a serrano chili (use less for less spicy, you can always add more to taste)
1 fat garlic clove
1 cup chopped cilantro- thin stems ok.
¼–1/2 teaspoon salt
a squeeze of lime juice (1 tablespoon)
---
Instructions
Place all ingredients in a blender and blend until smooth, scraping down sides if need be. ( See notes for vegan)
Blend until creamy. Taste. Adjust heat, salt and lime to your liking, adding more of each if you want. You want this slightly salty.
Store in an airtight container in the fridge for up to 4 days.
Makes 3/4-1 cup.
---
Notes
A note on Peruvian Green Sauce ( Aji Verde): Mayo is traditional. I prefer sour cream, or a blend of sour cream and mayo. Or the vegan version below!
VEGAN PERUVIAN GREEN SAUCE:  Instead of mayo, substitute 1/3 cup raw cashews and 1/3 cup water, and use 1/2 teaspoon salt.  Blend cashews and water first- in a high-powered blender. (If your blender is not "high-powered" soak the cashews in water for 4 hours first, so they soften a bit.) Blend until creamy then add remaining ingredients- chilies, cilantro, garlic, salt and lime. Taste and adjust heat and salt to your liking. You want this slightly salty.
Source: Feasting at Home
Cilantro Lime Cabbage Slaw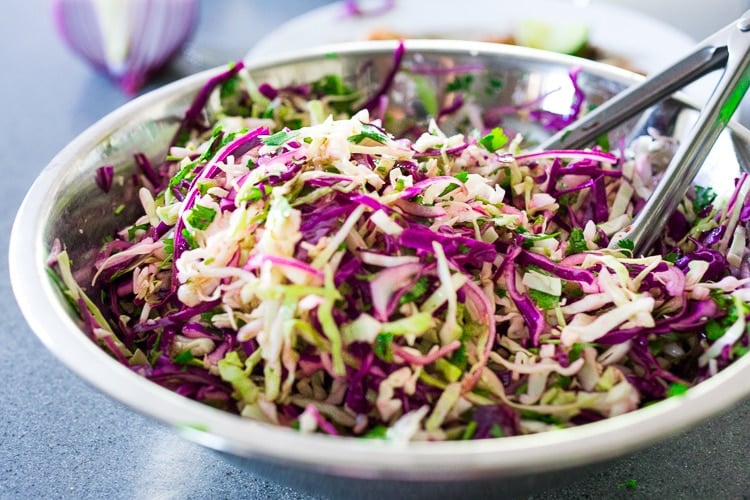 Ingredients
1

 pound thinly sliced or shredded cabbage ( green and purple is nice)

½ teaspoon

 kosher salt, more to taste

¼ cup

 thinly sliced red onion, more to taste

½ cup

 chopped cilantro (packed), ½ of a large bunch

¼

 –

½

 of a jalapeño, finely chopped, more to taste

¼ cup

 fresh lime juice, more to taste

2 tablespoon

 olive oil
Instructions
Place the shredded cabbage in a medium bowl. Toss with the salt. Add the onions, cilantro, jalapeño, lime juice, olive oil and toss well. Adjust lime, salt, and jalapeño, adding more to taste– you want this to taste tangy and flavorful.
Source:  Feasting at Home