This Week's Veggie Feast
Red Cabbage, Green Beans, Kale, Dill Weed, Salad, and a Surprise
New This Week
Red cabbage displays brilliant leaves of either a crimson or purple color with white veins running through them, and with its hue comes additional health benefits not found in green cabbage.
Red cabbage is often used raw for salads and coleslaw. This vegetable can be eaten cooked. It is the traditional accompanying side dish paired with many German meals—most notably, Sauerbrauten.
Keep cabbage cold to help retain its vitamin C content.
Store unwashed fresh beans pods in a plastic bag kept in the refrigerator crisper. Whole beans stored this way should keep for about seven days. Just prior to using the green beans, wash them under running water. Remove both ends of the beans by either snapping them off or cutting them with a knife. Green beans are a classic ingredient in Salad Nicoise, a French cold salad dish that combines steamed green beans with tuna fish and potatoes. Sautéd green beans are great with shiitake mushrooms. Or prepare the perennial favorite, green beans almondine, by sprinkling slivered almonds on healthy sautéed beans.
Recipes
Green Bean Salad with Lemon and Dill Recipe
Source: Simply Recipes
Ingredients
1 1/2 pounds fresh green beans
3 tablespoons fresh dill, minced
3 tablespoons red onion, minced
1 1/2 tablespoons Dijon mustard
1 1/2 tablespoons olive oil
Zest of 1 lemon
Juice from 1/2 lemon (about 1 1/2 tablespoons)
1 tablespoon + 1/2 teaspoon kosher salt, divided
1 teaspoon freshly ground pepper
Instructions
1 Trim the green beans: In a large saucepan, bring water to a boil and add 1 tablespoon kosher salt. You want the water to be salty like the sea.
While the water is coming to a boil, wash and trim the stem ends of your green beans.
2 Blanch the green beans: Add trimmed beans to water. Let boil for about 3 to 4 minutes. The color of the beans should be bright, and the texture cooked, but firm tender. Taste a bean to make sure it has the right texture.
Strain the beans and run under cold water to slow the cooking process. Shake off excess water, and pat them dry with a towel.
3 Make the dressing and toss to coat: In the bottom of your serving bowl, whisk together dill, minced onion, Dijon mustard, olive oil, lemon zest, lemon juice and 1/2 teaspoon salt, and pepper. Add beans. Toss to coat.
Sesame Cabbage Rice Noodle Salad with Crispy Tofu ( or chicken)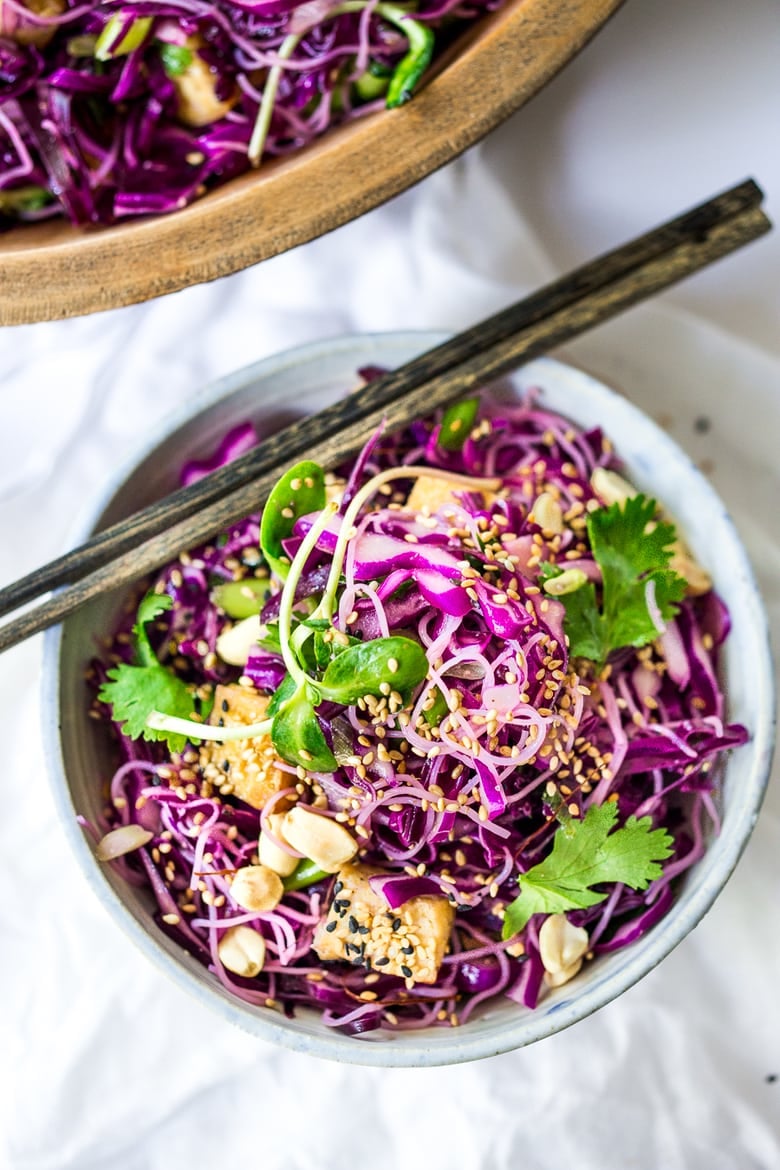 Source: Feasting at Home
ingredients
2 ounces

 vermicelli rice noodles

½

 head purple cabbage- finely sliced

4

scallions, sliced at a diagonal

⅛

–

¼

 cup finely sliced red onion

12 ounces

 baked or seared tofu ( see notes) or shredded chicken

1

 bunch cilantro ( chopped)

2

– 

3

 tablespoon toasted sesame seeds

¼ cup

 roasted peanuts ( optional)
handful sunflower sprouts ( optional)
Sesame Dressing:
1 tablespoon

 olive oil

3 tablespoons

 toasted sesame oil

3 tablespoons

 rice wine vinegar

1 tablespoon

 honey (or agave or cane sugar)

1 teaspoon

 finely minced ginger ( or ginger paste)

2 teaspoons

 soy sauce or GF Liquid Amino Acids

¾ teaspoon

 salt, more to taste
squeeze of lime
---
instructions
Set water to boil for the noodles.
Decide what tofu or chicken option you want to use and start that process. ( see notes on Feasting at home page)
Thinly slice the cabbage and add it to a big bowl. Add the scallions, red onion  and cilantro and toss.
Whisk the dressing ingredients together in a small bowl and toss with the cabbage.
Soak the noodles in the hot water ( turn heat off) for 1-2 minutes, stirring until just pliable. Do not boil the noodles! Just let them get tender and pliable. Al dente is perfect, they will get softer in the salad. Rinse with cold water, until they feel very cold. Drain well and add to the cabbage salad. Toss.
Add your choice of protein. Sprinkle with sesame seeds and roasted peanuts and sprouts if using.
Enjoy!