Notes From The Farm
Happy July!  The combination of the rain and the heat have given the crops a boost!  We are smack in the middle of a harvest lull; the early season crops are finished and the mid-summer crops are still about a week out.  We will soon see more hearty veggies in the shares, but this week you will have to make do with some more greens (of which we are all supposed to eat lots!!) and some flavorful herbs.
We also got the hail that traveled through the valley last Friday, but luckily it didn't last long and nothing has been damaged beyond repair.
This Week's Veggie Feast
Parsley, Lemon Basil, Salad mix with Nasturtium Blossoms, Fresh Garlic, Rhubarb, Red Russian Kale
New This Week
The leaves can be minced and used fresh to brighten the flavor of sauces and soups. In France you see parsley used in persillade (persil is French for parsley), the traditional garnish composed of fresh parsley and garlic that is added to a dish just before the end of cooking. The stems can be saved and used for adding to stocks or flavoring soup base. If the stem is tender it can be minced and added to your dish. Dried parsley tends to lose flavor quickly so it is best used fresh.
The heavy rain and hail didn't damage this crop, but it rained so hard that the soil splattered up onto the leaves.  Basil tends to melt if you wash it and then package it, so we had to package it a bit dirty.  Make sure you give it a good rinse before use.  Lemon basil has a unique lemon scent that makes a great addition to any pasta, chicken, or tuna salad. Its flavor is a perfect partner to seafood dishes and is also great in cocktails.
Recipes
(makes about 1 cup of sauce)
This bright sauce will pair well with grilled vegetables, steamed potatoes, a simple pasta dish, and grilled seafood.
Ingredients
2 small garlic cloves
¼ teaspoon kosher salt
8 black peppercorns
¼ teaspoon fennel seeds
¼ teaspoon dried or fresh tarragon
¾ cup finely chopped parsley
1 large shallot or 4 scallions, finely chopped
Grated peel of 1 lemon
¾ to 1 cup olive oil
Red wine vinegar to taste
Salt
Instructions
Pound the garlic in a mortar with the sea salt, peppercorns, fennel seeds, and tarragon to make a smooth paste. Add about 2 tablespoons of the parsley, and work it into the paste. Stir in the rest of the parsley with the shallot or scallions, the lemon peel, and the olive oil. Let this mixture stand covered while the flavors infuse for an hour or more. Just before serving, add the vinegar and salt to taste.
Lemon Basil Vinagrette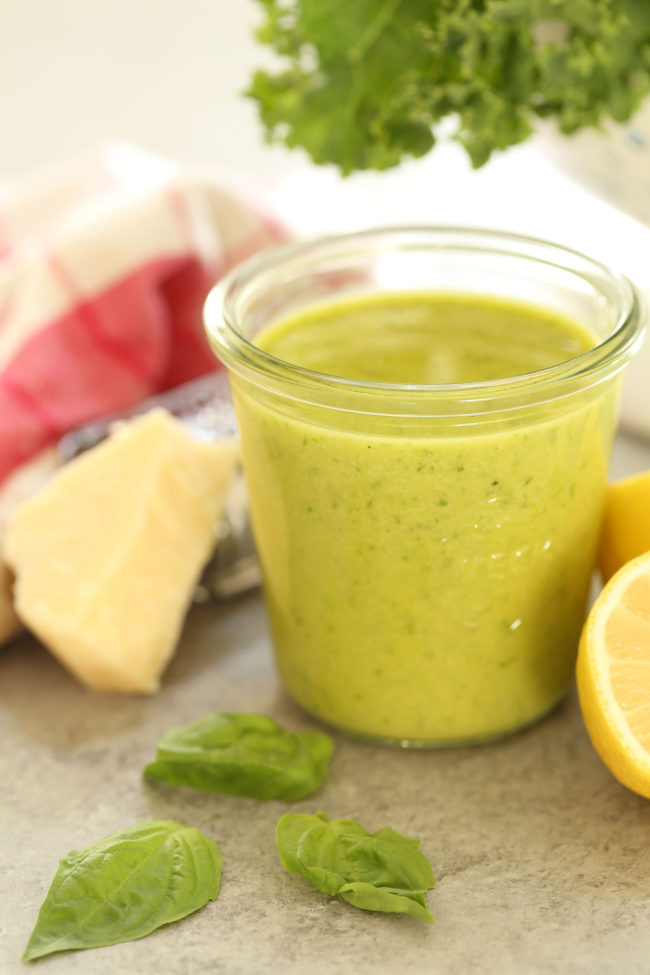 This Lemon Basil Vinaigrette uses fresh tender basil leaves, garlic, Parmesan cheese, a wee bit of Dijon mustard, lemon juice, and extra-virgin olive oil. It's quick and easy, fresh and delicious, and it's perfect on your favorite salad ingredients.
Ingredients
 3 tablespoons fresh basil, sliced into ribbons
 1 clove garlic, minced
 4 tablespoons Parmesan cheese, grated
 1-1/2 tablespoons Dijon mustard
 4 tablespoons fresh lemon juice
 1/2 cup extra virgin olive oil
 salt and freshly ground black pepper to taste
Instructions
Place basil, garlic, Parmesan cheese, mustard and lemon juice in a blender.
Pulse a few times, then slowly pour the olive oil in the blender.
Continue to blend until vinaigrette is smooth.
Refrigerate for 1 hour before serving