Notes from the Farm
Besides the usual farm activity this week we had the privilege of meeting some of the reptiles that are either living on the farm or passing through.  We have seen a few snakes in the past but this year we are seeing more than usual.  The snake in the photo is in a hoop-house and didn't seem to mind that I was weeding in it's presence.
The turtle was a complete surprise.  It simply showed up a few paces from our back door.
This Week's Veggie Feast
Lots of new greens this week: wild amaranth, wild quinoa, and kale, salad mix, green onions, spearmint, and oregano
New This Week
Spearmint is a mild flavored mint that can be chopped up and added to salads, and sauces.  Or even better try a tasty beverage.  See recipes below.
Using green onions is fairly straightforward since the only inedible part is the very root end, which needs to be sliced off.  The white base can be cooked or added raw to salads, while the green tops are used as a raw garnish.
Although this plant is abundant on our farm I never ate it until my friend Anna came to visit in the summer one year.  Walking around the farm to "pick" our supper she harvested a bunch of wild amaranth.  I had always thought of amaranth as a weed (classifying a plant as a weed is really just an opinion), but she told me she ate it frequently when she lived in Malawi, Africa.  Yum!  Wild amaranth has a mild flavor, and can be cooked in the same manner as one cooks spinach.
Lamb's quarters are another little known, and thus little eaten green.  Lamb's quarters are a wild annual green with dull green leaves that have toothed edges. This annual is considered a weed by many but is entirely edible; belonging to the spinach and beet family. The leaves are an excellent source of vitamin C and iron.  If tender, leaves can be eaten raw in a salad. Lamb's quarters can also be lightly cooked and substituted for spinach in many recipes, including lasagna and quiche.  Looking for a recipe? Spring Green Phyllo Rolls.
The dark green, red-stemmed Russian kale may be one of the sweetest greens in the kale family. The tips of the leaves are tender enough to be eaten raw, but are  improved by cooking which tenderizes the tough parts of the leaf. Russian kale has tough, woody stems, however, so be sure to remove as much of them as possible before cooking.
Salad is always tasty, but even better with beautiful, edible flowers.  These flowers are a bit zippy!
Recipes
Mint Ice Cubes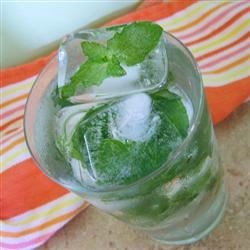 Place 2 to 3 mint leaves into each cell of a heatproof ice cube tray. Fill the cells with the boiling water, then let stand for 10 minutes; remove the leaves if desired. Freeze the ice cube tray until solid.
Source:  All Recipes
Mojito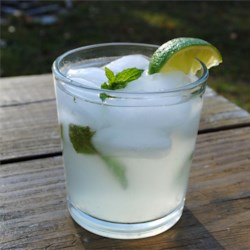 Ingredients
1/2 lime, juiced
1 TBS sugar
5 mint leaves
ice cubes
2 fluid ounces white rum
4 fluid ounces soda water
1 lime wedge
Directions
Muddle the lime juice, sugar, and mint leaves together in the bottom of a cocktail glass until the mint has broken down a bit, about 1 minute. Fill the glass with ice cubes. Add the rum and soda water over the ice. Pour the mixture back and forth from from the glass to another glass to mix. Garnish with the lime wedge and enjoy.
Source:  All Recipes
Mediterranean Mint Lemonade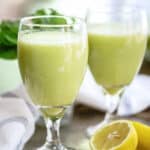 INGREDIENTS
2 cups crushed ice
4 cups water
2 large lemons (or limes), washed, cut into small pieces, and seeds removed
Juice of 1 large lemon
1 bunch fresh mint leaves, stems removed (about 25–40 mint leaves), more for later
1 cup sugar, more to your liking
INSTRUCTIONS
Add all the ingredients to the pitcher of a high-quality blender. Cover and push blend or liquefy (high-speed function), until you achieve the desired drink consistency.
Taste and add more sugar or mint leaves, if you like. Blend again.
Pour the lemonade into a serving pitcher through a mesh strainer. Add fresh mint leaves to the pitcher. Cover and refrigerate until you are ready to serve.
If you like, strain the lemonade again as you pour into serving glasses. Enjoy cold!